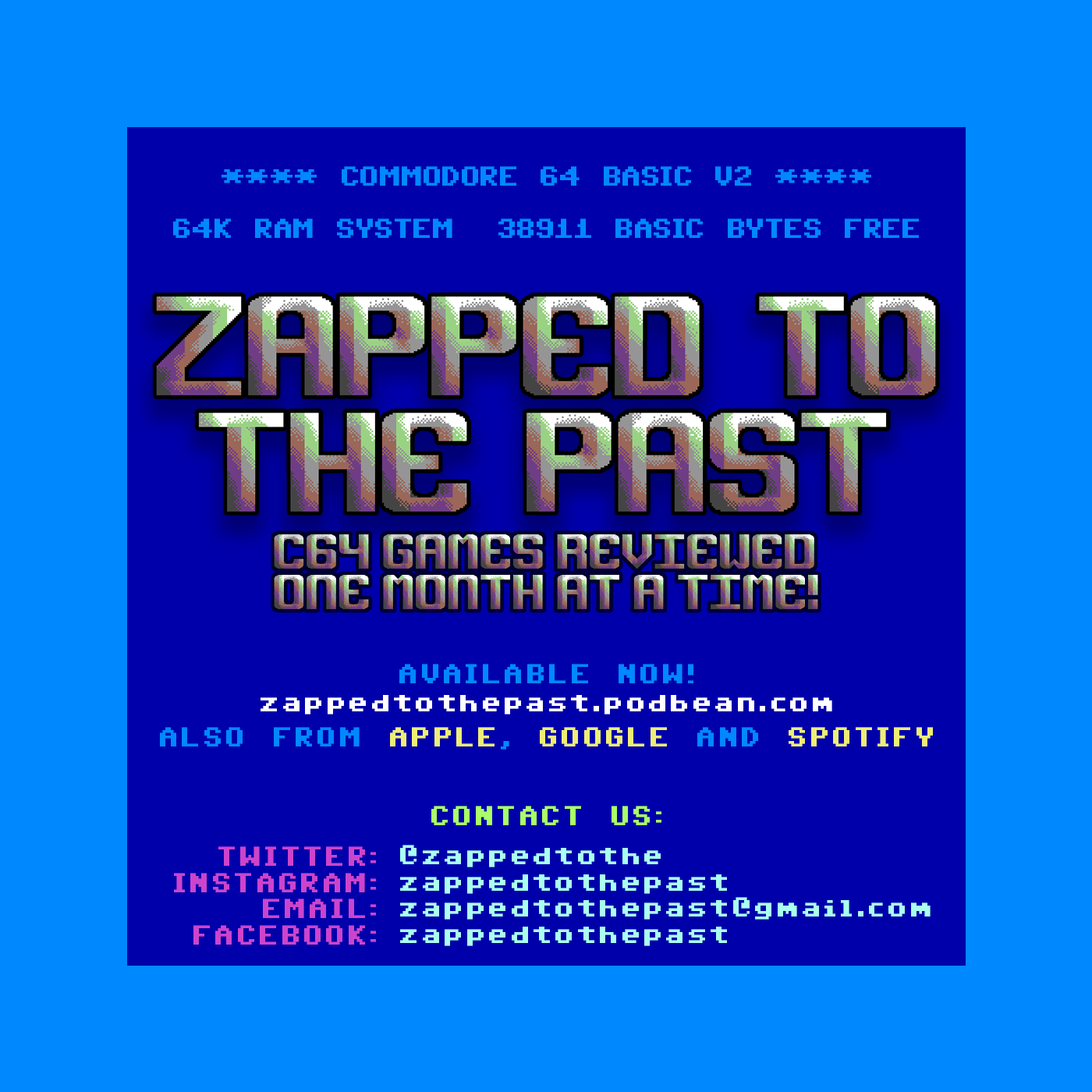 In the month of March 1987 many games were released for the Commodore 64. In episode forty-seven of Zapped to the Past, we look at some of those games, including the mesmerising Mutants, the rotational Raid 2000 and the fiery Falcon Patrol 2 and wonder how many toilets were ruined doing the research for Tracker…
Games covered in this episode:
Mutants

Star Soldier

Future Knight

The Double 

Tracker 

Pneumatic Hammers

Raid 2000

Tomahawk

Falcon Patrol 2
Find us here:
Please visit the website of David Hearne Writer - our amazing show sponsor:
https://www.davidhearnewriter.com/
If you would like to help us out and join our Patreon, find it here:
https://www.patreon.com/zappedtothepast
Additional links mentioned in the Podcast:
Floy Joy: https://www.youtube.com/watch?v=dhT5vTN7mT0
FGTH final release: https://www.youtube.com/watch?v=Js_bi9Xz4wY
Text for Terence Trent D'Arby speech:
Sweetheart listen, I know the last few pages haven't been good for the both of us and I've caused you a lot of grief. But put those bags down, o.k.? Before you make a decision like that, please just listen to me 'Cos I don't want you to leave. I definitely don't want you to leave. Just hear me out.
Speech Synthesis tools:
https://www.naturalreaders.com/online/ or https://simulationcorner.net/index.php?page=sam
The Genesis Effect: https://www.youtube.com/watch?v=52XlyMbxxh8
Magnum Pan Pipes: https://www.youtube.com/watch?v=f3Hf7GuOmBM
Slowed down Jolene: https://www.youtube.com/watch?v=CMrfM711vXI
Message from Mark King:
Original:
Zzz-tp. Beedop pl-me tum ta-to poom. Da-dun-q-tngggg. Do-di-naaaag mob-ib p-ing-smannng dor-de-meng. Ang, de-fang-me-ting-de-chibmmm.
Translates: 
ZTTP, please stop implying my thumbs are too powerful. They are just quite strong. Though this is the 9th mobile phone I've smashed for this message. Also, my favourite meal is chips.